"The art of teaching is the art of assisting discovery"
— Mark Van Dorena
Online Cross Stitch Class Prep Info
Upcoming online Beginning Cross Stitch classes I'm teaching:

Past Classes:

Using supplies you probably have at home, you'll learn the basics of cross stitching.

Cross Stitch is a form of counted thread embroidery that is a fun and easy way to decorate favors, needle books, napkins, pin cushions, table cloths, and more, as well as creating large and small cross stitch pictures or samplers.

This is a beginner class and no experience at anything is necessary.

The class is 1 hour long.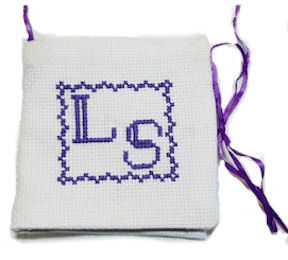 To play along at home you'll need to assemble some items:
What You Need For Class:
Pattern | Thread | Needle | Fabric | Prepare the Fabric
---
More Cross Stitch Info
Questions? Comments? Whatever? Email
---
What You Need For Class
If you want to work along with me in class you'll need a few things:

When you have the class materials, you'll also need to:
---
Pattern
We'll be using this heart pattern from Craft Designs for You: Learn How to Cross-Stitch — Copyright 1999 by Cherie Marie Leck

Go to Craft Designs for You: Learn How to Cross-Stitch to get the pattern
Have the pattern available on your phone or computer (not the one you are Zooming on) during class
Or print a copy of the red and white pattern and/or the black and white pattern to use in class:

Use your computers Print Screen function
Or right click on the image and click on Copy Image

Then paste it into Word or another document program for printing
---
Thread
You'll need 2 colors of thread. 1 color for the heart, and 1 for the background and the shine on the heart. Usually you would use DMC or other name brand embroidery floss, do NOT use the cheaper packaged threads, there is a reason they cost less.

If you don't have embroidery floss you can use:
Tapestry wool, embroidery silk, or any other embroidery thread
Crochet cotton, any size
Linen thread
Kitchen/cotton twine, or any twine that is not stiff
Yarn, any size works, but the lumpy or thick and thin wouldn't
Thin ribbon
---
Needle
Usually you would use a blunt needle with an eye (hole) big enough for the thread to go through the holes in your fabric, but small enough not to enlarge those holes.
You don't have that needle: Any needle that's close enough will work:

A sharp needle will work, but be careful not to split a thread, just go through the holes
A larger eyed needle will work, but the holes on your finished project might be bigger than the thread going through can fill up. Use a larger sized thread, or more strands of the thread, so that it is thick enough to fill the hole

You don't have any needles: You can wrap the end of your thread/yarn with scotch tape, masking tape, etc. Wrap the tape so it forms a point at the end of the thread/yarn. Cut the tape "needle" off as you finish with a thread, and create a new one for the next piece of thread/yarn.
---
Cross Stitch Fabric
Cross stitch is usually done on Aida cloth (pictured right), a cloth woven with equidistant holes.

You'll need fabric that is at least 21 squares by 21 squares. That is the 13 x 13 size that the pattern covers, and 4 squares on each side for a border.

If you have Aida cloth you need:

14 (or smaller number) count fabric. The number refers to how many holes there are per inch, so a SMALLER number means LESS HOLES PER INCH and the BIGGER the PATTERN will work out: This pattern is approx. 1 inch square on 14 count fabric, and approx. 2 inches square on 7 count fabric.
A size that will work well with the size thread/yarn you will be using

If you don't have Aida cloth: Fear not! You can use heavy card stock, thin cardboard from a cereal or snack box, or light to medium weight corrugated cardboard.

Cut out a piece that is big enough for 21 x 21 squares of your graph paper
Go to Printable Paper
Print out a graph paper that is 14 or less lines per inch, and will work well with the size thread/yarn you will be using
Tape that graph paper to your cardboard. Don't glue it down because the glue will make it hard to stitch through. Just tape it around the edges of the paper.
You'll stitch through the spot where the grid lines meet
---
Prepare the Fabric
In cross stitch you place your stitches by counting the number of spaces from one section to another.
The easiest way to do that is to find the center of your pattern and your fabric and create a horizontal and vertical line through that center point. This gives you reference points to count from when stitching.
This pattern has an uneven number of squares so mark the line that is the LEFT of the CENTER SQUARE and the line that is ABOVE the CENTER SQUARE (the same as the arrows she has on her pattern).
If you are using printed graph paper on cardboard, you can use a ruler to find the correct horizontal and vertical lines and highlight them with a dark pen.
If you are using fabric, you can use this Tip: Find the Center to mark your fabric.
Cross Stitch looks best when the bottom stitch of each "X" is stitched in the same direction.
---
Resources
Questions? Comments? Whatever? Email
If these pages were useful or entertaining
Copyright © by Debbie & Tim Coyle