When placing stitches, count along each line from the center to find the exact placement on the fabric.

The top left corner stitch of the D is 5 up and 5 left from the center cross.

Start at the center, where the vertical and horizontal lines cross
Count up the vertical line 5 squares
Then count left from the vertical line 5 squares
After the piece is completed, you can cut the vertical and horizontal running stitch lines and pull them out of the piece. If you've accidentally split any of the running stitches, carefully cut them out of the piece or pull them to the back where they won't show.
---

Tip: Find the Stitch Direction

---
The direction of the top stitch of your cross stitches makes a difference in the look of your finished piece. For a consistent look, the bottom stitch of each X should all be the sewn in the same direction (bottom left to upper right or bottom right to upper left, your choice!)

But as you move the fabric during the sewing, directions change, top becomes bottom, left becomes right.

To keep track of which direction your bottom stitches should go, stitch the direction in one of the corners of the fabric (outside the design area).

This way, no matter how you're holding your fabric, your direction is clear.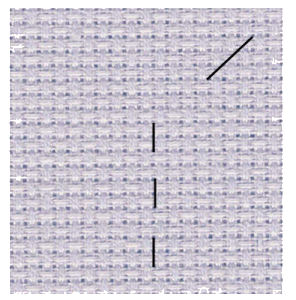 ---

Cross Stitch Links

---
How To Cross Stitch
DMC's Technique Overview: Cross Stitch: Learn everything you need to know about cross stitch. Read about the origins and history of cross stitch, how to read a cross stitch chart, what supplies you need, and the cross stitch guide.

My Cross Stitch Needlebook Kit (for sale)
Buy the Needlebook Kit
at Unicorn Fiber Arts




Cross Stitch Needlebook Kit

Carry your needles and pins in a convenient and handy needlebook. It includes a loop to keep it handy by hanging it from your chatelaine or other sewing accessory.

The soft fabric pages are perfect for holding needles of all sizes. For the organized ones among us, you can write the needle type / size info on each page.

Decorate the cover with your initials (chart included) or favorite design!

Skill Level: Intermediate Beginner, needs to know how to cross stitch and hand (or machine) sew a running stitch.

Kit includes everything you need to create the needlebook:

Cross stitch charts:

2 alphabets, 3 borders, and embellishments

Fabric and tools:

Cross-stitch fabric for needlebook covers
Ribbon for needlebook ties
Flannel for needlebook pages
Embroidery thread and needle for cross stitch
Sewing thread and needle for needlebook assembly
Instructions for needlebook assembly
Questions? Comments? Whatever? Email
Copyright © by Debbie & Tim Coyle